I don't even know where to start.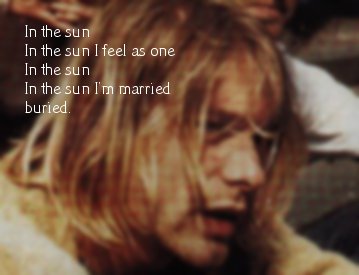 Wow, six years already. On April 5th, 2000, there are a few shows remembering Kurt Cobain. Some radio stations might honor him as well. Then there are the 'fans' at heart who will never forget... We plan on always cherishing the memory no matter how much time has passed.. no matter what the day is. Whether it be 7 years 3 months and 4 days, or just flat out six years... Kurt Cobain will always be thought of.. loved.. alive in the minds of us.

His music is still here.

It's too bad that it takes one 'special' day, ie the "anniversary" of a legend's death.. for the media to recognize a great one's music, life and times. I'm glad though that he is being thought of. He has not gone unnoticed.. he's still there. The pain.. the pain that comes with thinking of him.. missing him, wishing and wondering what it would be like..

We passed upon the stair, spoke in was and when
Although I wasn't there, he said I was his friend
Which came as some surprise, i spoke into his eyes
I thought you died alone, a long long time ago
Oh no, not me
We never lost control
You're face to face
With the man who sold the world

When you see a photo of Kurt, you see his bright, blue eyes. You see his hair.. his chin.. all these features that made up Kurt.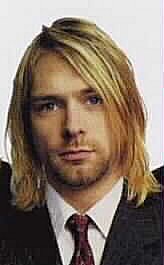 And then, when you listen to the music.. the music of Nirvana..


his guitaring..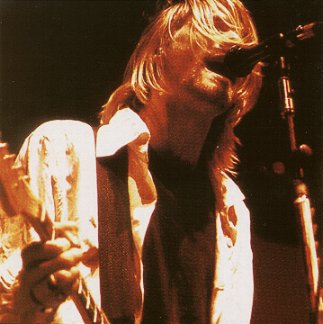 his voice..
If you close your eyes and listen to the silence, you might easily be able to hear Kurt singing in your head. Any song at all.. you can hear his voice pitching the words at you.. he has a way of getting you to listen to those words so they do stick in your head..
When I close my eyes and listen to the music, I can not only hear it.. I can feel it.. word by word..
So April the 5th is here.. the memories are still here too.
and so, we ask you.. write about kurt. e-mail your thoughts to us at apologies@mailcity.com.. or sign our guestbook on what kurt did for you.. write whatever you please.. rant and vent..
The memory remains, always, and forever...
Rest in Peace Kurt Cobain
what people have to say.. >>